Diablo Systems / Xerox Reunion
Aug. 2, 2008 ~ Kennedy park

Thank you-Patti (Mouse) & Althea for organizing the reunion.
__________

The three voted as having "not changed over the years" are:
Not in any order: Cliff & Judy Wade, Steve & Althea Hallgren, Judi Cecaci, Cliff Busby, Arnie Thomas, Debbie Meuser, Jerry Todd, Marianne & Frank Cobarrubias, Patty Ihli (Mousey), Debbie Abeyta, Greg & Gary Olberg, Monica & Richard Tapia, Jim Mack, Violet & Phil Pacheco, Bob & Terrie Rowe, Greg Smith, Chuck & Lelette Tyler, Dave Jackson, Lewis Brundage, Bill Palleschi, Bob Gonnering, Denise Harper, Dave Halstead, Anna Rodriquez, Alvin Clement, Mac McIntosh.
Not Shown but attended: Frankie Darby, Cecy Silva, MaryAnn Barnett.
(Who did we miss? Let us know!)
Click this link for slideshow and pictures, compliments of Dan Gasper:

There is a way to download and save the individual full size pictures from PhotoShow if anyone wishes to do so:

1. Run the PhotoShow. (click on the link)

2. In the upper left margin, Click on "Album."

3. Thumbnails fill in.

4. Click on a picture you wish to save.

5. In the lower left margin, click on "Download."

6. You've done it.

Posted Aug. 6, 2008

(Check back here frequently - more pictures from D.Gasper will be posted soon.)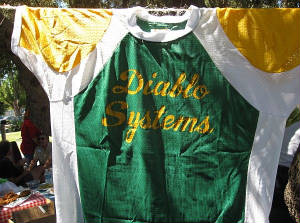 If you were one of the photographers, please email your pictures to Marianne ( misslacy4@yahoo.com ).
(Not all, but some pictures can be enlarged by CLICKING ON THEM)


Cecy Silva, Rich Tapia



Debbie Meuser, Arnie Thomas



Judy Wade



Steve Hallgren, Violet Pacheco's husband(?)



Judy & Cliff Wade



Althea Hallgren, Violet Pacheco



Monica Tapia, Cecy Silva



Violet Pacheco, Patti (Mouse) McPeake Ihli



Joe Sklar



Frank Cobarrubias, Bob Fifield



Rich Tapia



Bob Rowe, Frank Cobarrubias



Arnie Thomas, Dave Jackson



Frank (Mary Ann) Barnett, Deb Meuser, Bob Rowe



Jerry Todd



Althea, Violet, MaryAnn Barnett



Terrie Rowe, Jerry Todd



Althea Hallgren



Dan Gasper



Jim Mack, Lewis Brundage

Submitted by Marianne Cobarrubias

Posted Aug. 2, 2008


Cliff Busby, Ron Hansen, Arnie Thomas, Chuck Shepard

Submitted by Patti Ihli and Judy Wade

Posted Aug. 7, 2008